Whiplash
R
for strong language including some sexual references


Miles Teller , J.K. Simmons

-

105 minutes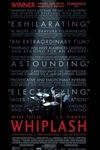 Andrew Neyman is an ambitious young jazz drummer, single-minded in his pursuit to rise to the top of his elite east coast music conservatory. Plagued by the failed writing career of his father, Andrew hungers day and night to become one of the greats. Terence Fletcher, an instructor equally known for his teaching talents as for his terrifying methods, leads the top jazz ensemble in the school. Fletcher discovers Andrew and transfers the aspiring drummer into his band, forever changing the young man's life. Andrew's passion to achieve perfection quickly spirals into obsession, as his ruthless teacher continues to push him to the brink of both his ability-and his sanity.
Official Site
Trailer
---
Inherent Vice
R
for drug use throughout, sexual content, graphic nudity, language and some violence


Joaquin Phoenix , Benicio Del Toro

-

148 minutes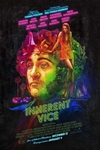 When private eye Doc Sportello's ex-old lady suddenly out of nowhere shows up with a story about her current billionaire land developer boyfriend whom she just happens to be in love with, and a plot by his wife and her boyfriend to kidnap that billionaire and throw him in a loony bin...well, easy for her to say.
Official Site
Trailer
---
Black Sea
R
for language throughout, some graphic images and violence


Jude Law , Scoot McNairy

-

115 minutes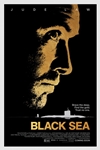 A rogue submarine captain pulls together a misfit crew to go after a sunken treasure rumored to be lost in the depths of the Black Sea. As greed and desperation take control onboard their claustrophobic vessel, the increasing uncertainty of the mission causes the men to turn on each other to fight for their own survival.
Official Site
Trailer
---
American Sniper
R
for strong and disturbing war violence, and language throughout including some sexual references


Bradley Cooper , Sienna Miller

-

134 minutes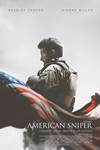 U.S. Navy SEAL Chris Kyle is sent to Iraq with only one mission: to protect his brothers-in-arms. His pinpoint accuracy and courageous exploits earn him the nickname "Legend." However, his reputation is also growing behind enemy lines, putting a price on his head and making him a prime target of insurgents. He is also facing a different kind of battle on the home front: striving to be a good husband and father from halfway around the world. Despite the danger, as well as the toll on his family, Chris serves through four harrowing tours of duty in Iraq, personifying the spirit of the SEAL creed to "leave no one behind". But upon returning to his family, Chris finds that it is the war he can't leave behind.
Official Site
Trailer
---
Cake
R
for language, substance abuse and brief sexuality


Jennifer Aniston , Anna Kendrick

-

91 minutes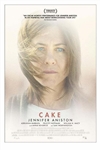 Claire Simmons lives in chronic pain - and none too pleasantly; her abrasive anger has driven virtually everyone out of her life except for housekeeper Silvana. But the suicide of a fellow chronic-pain sufferer shakes Claire to the core, and in trying to understand the death of a woman she barely knew, she may finally come to grips with her own life.
Official Site
Trailer
---
A Most Violent Year
R
for language and some violence


Jessica Chastain , Oscar Isaac

-

125 minutes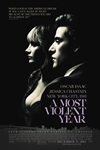 Set during the winter of 1981 -- statistically one of the most crime-ridden of New York City's history -- this drama follows the lives of an immigrant and his family as they attempt to capitalize on the American Dream, while the rampant violence, decay, and corruption of the day drag them in and threaten to destroy all they have built
Official Site
Trailer
---