Meet the Patels
PG
for thematic elements, brief suggestive images and incidental smoking


Ravi V. Patel , Geeta V. Patel

-

88 minutes
A laugh-out-loud real life romantic comedy about Ravi Patel, an almost-30-year-old Indian-American who enters a love triangle between the woman of his dreams...and his parents. This hilarious and heartwarming film reveals how love is a family affair.
Official Site
Trailer
---
Trumbo
R
for language including some sexual references


Bryan Cranston , Diane Lane

-

124 minutes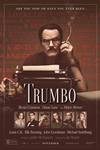 In 1947, Dalton Trumbo was Hollywood's top screenwriter until he and other artists were jailed and blacklisted for their political beliefs. The film recounts how Dalton used words and wit to win two Academy Awards and expose the absurdity and injustice under the blacklist, which entangled everyone from gossip columnist Hedda Hopper to John Wayne, Kirk Douglas and Otto Preminger.
Official Site
Trailer
---
Spotlight
R



Mark Ruffalo , Michael Keaton

-

127 minutes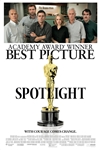 This film tells the riveting true story of the Pulitzer Prize-winning Boston Globe investigation that would rock the city and cause a crisis in one of the world's oldest and most trusted institutions. When the newspaper's tenacious "Spotlight" team of reporters delves into allegations of abuse in the Catholic Church, their year-long investigation uncovers a decades-long cover-up at the highest levels of Boston's religious, legal, and government establishment, touching off a wave of revelations around the world. This tense investigative dramatic-thriller traces the steps to one of the biggest cover-ups in modern times.
Official Site
Trailer
---
Room
R
for language


Brie Larson , Jacob Tremblay

-

118 minutes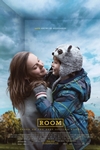 A unique and touching exploration of the boundless love between a mother and her child. After 5-year- old Jack and his Ma escape from the enclosed surroundings that Jack has known his entire life, the boy makes a thrilling discovery: the outside world. As he experiences all the joy, excitement, and fear that this new adventure brings, he holds tight to the one thing that matters most of all-his special bond with his loving and devoted Ma.
Official Site
Trailer
---